Harry Klien or Akiva Hersh Klien started his first business at a young age. Harry Klein was determined to make it through business and soon enough he proved himself.
The Film Exchange
The Film Exchange was the first business Harry Klein started, around 20 years ago. The business was in direct competition to a business owned by Chaim Pikarski. Chaim and Harry Klein are now friend and their rivalry turned not only into friendship but they went ahead even further and started combined business by partnership. Their mutual company, the C&A Marketing Inc. is one of the largest marketing agencies around.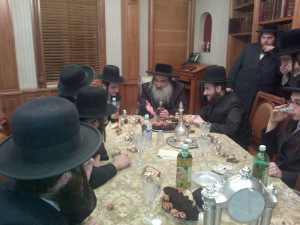 C&A Marketing
C&A marketing was launched by Chaim Pikarski and Akiva Hersh Klien in 2003 as a partnership business. While Chaim is administrating the whole business, Harry Klein is looking after the financial matters of the company while holding the role of Chief Financial Officer. The company witnessed some unprecedented growth and kept growing even during the financial crisis. The unique business structure in which they are in contact with manufacturers who are ready to take small order for trial products, this technique helped C&A marketing a lot in running all their businesses and affiliated companies.
Purchase of Calumet Photo
Being a leading manufacturer, reseller and distributor of Photographic equipments and cameras on a global scale, C&A marketing has recently acquired Calumet Photo's including online and offline rights. Calumet Photo was a decades old photographic company based in Chicago that suddenly shut down its 14 stores and filed for Bankruptcy in March this year. Calumet had a very loyal customer base which involves many professionals. With the acuquisition of Calumet Photos, Harry Klein now has a new opportunity to further increase their business and customer base. The company also had a photography rental business which is expected to re-open soon after the deal.
Expansion of RitxPix & Acquisition of Camera stores
As new technologies were introduced many people considered the age of classic photography over and hence it leads to shutdown of many photography retailers. While the rest of those retailers are downsizing and closing, C & A marketing is just flexing its wings in the industry and expanding their business in the niche which is otherwise considered a dying one. To expand the business C&A marketing inc has first expanded their online business at RitxPix.com. RitxPix has its professional printing facility at Hapeville, Georgia, while there are mini-printing labs at every Camera store of Ritz. The company has recently started another service called as Scanman Photo, in which old photos from your archive can be customized, restored, colorized and improved in quality.
$5 Million worth property
The current office of C&A Marketing was purchased for a hefty sum of $5 million to meet the demands of the increasing sales.
Shares in C-Cubed Solutions
Akiva Hersh Klien personally owns a hundred thousand shared in the C-Cubed Solutions, as per the security and exchange commission documents.